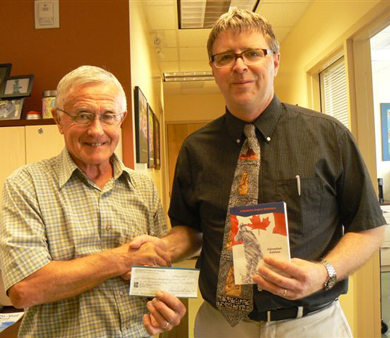 Shown above: Bev Turnbull, Glooscap Pioneers, and Jeff Newbery, Principal of Gaspereau Elementary School.
The Glooscap Council of the Bell Aliant Pioneers made a donation to several schools in the Kings County area for their breakfast programs. The donation will help them complete the breakfast program for the 2012 school year. A donation of dictionaries for their libraries was also made at the same time. The schools that benefited from this donation were Aldershot Elementary, Port Williams Elementary, Glooscap Elementary, Gaspereau Elementary, Cambridge Elementary, New Minas Elementary, Avonport Elementary and Somerset Elementary.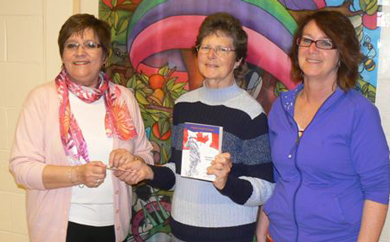 Shown above, Sadi Corbin, Glooscap Elementary, Joan Churchill, Glooscap Pioneers and Velma Perreault, Glooscap Elementary.