General News
April 22, 2016
Glooscap Council Pioneers help a princess
by Judy Graves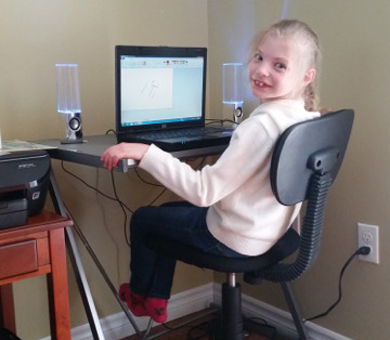 In March Sharon Chenier-Kelly, President of the Glooscap Council of the Bell Aliant Pioneers was contacted by a gentleman in regards to his granddaughter, Victoria Bell.  Victoria is a special child and has special needs.  The one thing that Victoria loves to do is go on her computer and play her games.  She was devastated the day her old computer died.  Her family was not in a position to get her a new one so they felt all was lost for Victoria.  Sharon wouldn't let that happen so the Glooscap Council decided to get her a computer. 

When she received it she was very excited indeed.  Shown in the picture is Victoria with her new computer. 

In the other picture is Victoria in her Princess attendants outfit at the Princess tea as Victoria is the first special needs child to be in the Apple Blossom parade.  She will be attending the New Minas Princess in the parade on May 28, 2016.

Congratulations Victoria and enjoy your computer.
© 2016 Bell Aliant Pioneer Volunteers
Top of Page •