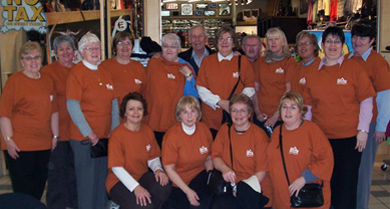 Chapter 105 Pioneers, their family and friends supported the Garden of Hope Radio-thon by answering the phones to take pledges from callers across NL
Chapter 105 Pioneers, under the leadership of Life Member Molly Stacey, have supported the VOCM Garden of Hope Radio-thon for more than 10 years. The Dr. H. Bliss Murphy Cancer Care Foundation's Garden of Hope supports the development and maintenance of the beautiful Gardens of Hope in St. John's, Gander, Grand Falls-Windsor and Corner Brook. These therapeutic gardens provide many benefits to patients and their families. Access to outdoor environments and specially designed gardens can be beneficial to the physical, social, psychological and spiritual health of those living with a cancer diagnosis.
This past week during the annual event, Molly recruited fifteen volunteers to fill a one hour time slot to take pledges from callers across Newfoundland and Labrador via VOCM Radio station.
The broadcasters at VOCM are very familiar with the work our Pioneers do in communities across the province and our involvement with this fundraising event each year. Broadcaster Randy Simms mentioned the Pioneer volunteers five times during the event. This great media attention was a plus for our organization.
Our volunteers helped raise over $100,000 for the Garden of Hope. Congratulations to you Molly and your group of volunteerts!