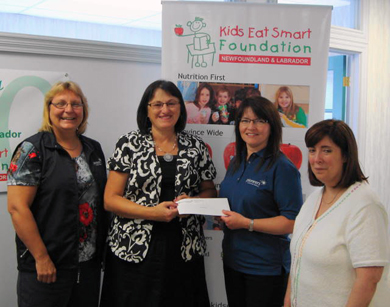 In the photo: L-R: Joan Neil, President Chapter 105, Bell Aliant Pioneers, Daphne LeDrew, Executive Director of Kids Eat Smart Foundation, Pioneer Donna Stanley and Susan Vardy.

In celebration of the Pioneers 100 years of service, volunteerism and philanthropy, Pioneers are joining together for one of the biggest volunteer efforts in our history. Pioneers Dish It Up aims to feed one million people across the U.S. and Canada who face the daily challenge of "food insecurity."
On Thursday, September 22, 2011, Joan Neill, President of NL Chapter 105 Bell Aliant Pioneer Volunteers along with Pioneers Donna Stanley and "Dish It Up" project leader, Susan Vardy, presented a $900 cheque to Daphne LeDrew Executive Director of Kids Eat Smart Foundation.
Kids Eat Smart will be sending each of our participating school Clubs their respective portion of our donation.
Great work Pioneers!