Newsletters
January 12, 2009
Aliant Pioneers and Aliant partner in supporting Upper Room and Food Bank
by Joe Rowledge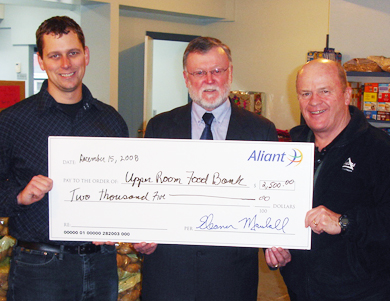 Aliant and the Aliant Pioneer Volunteers were very excited to work together in being able to help out the Charlottetown Food Bank during the holiday season.
The donation of $2500.00 was gratefully accepted by Mike MacDonald.
Pictured here starting from the left are Mike MacDonald, Operations Manager (Food Bank), Keith Lambe (Regional Manager, Aliant), and Joe Martell (Treasure, Abegweit Council).
© 2016 Bell Aliant Pioneer Volunteers
Top of Page •