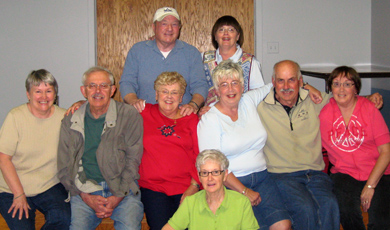 Photo: Set up volunteers to prepare for the big event.
Back Row L to R: Joe Coyle, Kathy Sheppard; Middle Row L ro R: Joan Wood, Don Spence, Evelyn Dover, Dianne Hatfield, Moe Wood, Kay Martell; Front Row: Kay McIntyre.
Abegweit Council, Bell Aliant Pioneers held their Annual Lobster Supper on Friday, June 12, 2009 at Hillsborough Hall in Charlottetown, PEI. Although the night was rainy, spirits were not dampened by the rain. A good time of laughter and fellowship was had with 55 members attending.

A 50/50 draw was held and the lucky winner this year was Jane Younker winning $83.00. The door prize winners were: Dave Demone, Reg Doucette, Linda Ramsay, Kay Frizzell, Joe Coyle, and David Ramsay.

Short speeches were made by Joe Rowledge, Ron Nicholson, and Colin Affleck.